Purina One 30-Day Performance Challenge Contest finalist is out now! There are 10 cute and lovely furkid now waiting for your vote.
1. Hold on, before you proceed, again, please
click here
to download the widgets. After the download, extract the folder and you will see
then you might be prompt for the Security Warning.
2. Just click on
Run
and tada! See below.
A cute doggie will popup to welcome you to the widget.
3. Then, the details or information appears below.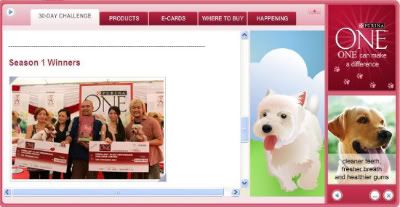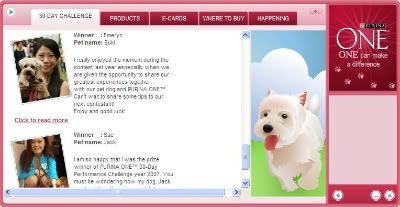 4. Notice that the main page shows the picture of the past winners and there's a small column about me and Suki. There is a
Click More
button and it link you to Sue's(past winner) and my
*tips*
.
If you are already at the website, click on the banner like below to link an it'll link you to out tips as well.

5. Guess what, I found that the widget has the latest results compared to their web.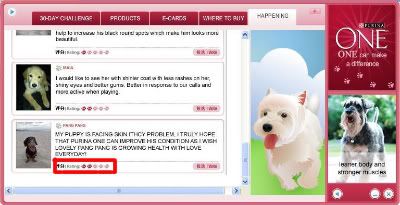 The first screenshot was taken from the widget and the second was taken from their website. Notice that Challenge Taker Pang Pang have TWO paws on widget and only ONE paw at the website. So, this added another point why you should download the widget.
6. Besides, every 3 hours, there's the cute furkid popup to give some facts of the day! I find this really informative though.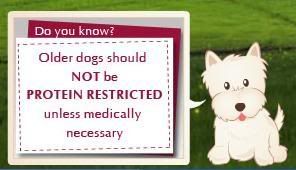 So, you might be guessing, what will you get in return of voting? With best slogans, you will get
RM150.00
worth of product prize! Give it to your furkid and you will know how it could make a difference. If you do not have one, even better, you could start adopting one or you could do a good deed by donating the products or feed it to the strays. I bet they'll be thankful to you. So, start voting now!
ONE can make a difference
As for the challenge takers, once again, I wish all of you good luck and show to the world how Purina One make a difference to your furkid and you. I will be visiting you guys in a while for the shooting. So, be prepared and give your best shot!