Hmm..ok, I know it's a little late to talk about the post events of Pet Malaysia Day 2008 now, but again, I was busy with other stuff earlier on.
I remembered I couldn't really sleep well the night before. As usual, I'm just over excited about it and din get to have a good night sleep, and yeah... I woke up very early too! I'm just used to waking up early everyday now.
So, before going to the event, manage to snap a picture of myself first without my furkid. All ready up to go to the event!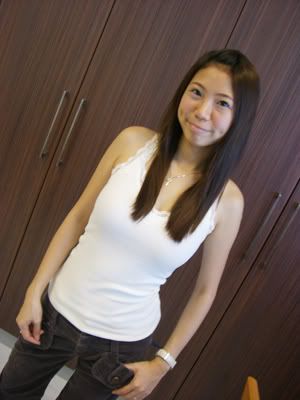 Once we reach and I left Suki on a table, hmm...being taken advantaged by the other furkid.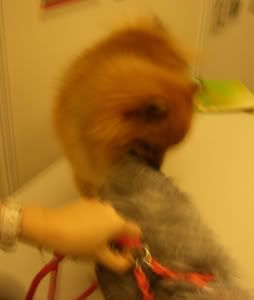 Suki had a really bad habit that she kind of marks her terrotory everytime she goes out. So, got to bring her to the poo and pee area real fast before she starts marking the marks in the wrong area. She will normally sniff around first then takes a real long time before letting herself doing her small business at the area.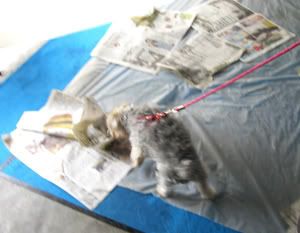 Before we go into the exhibition hall, there are many dogs "hanging out" just outside the hall. and I caught one of it in the act. Pleasuring him/her self. hm...you must be thinking who and what kinda act is that. It's kinda cleaning him/herself up, maybe it has just finish it's
business
as well.It's just a normal act which dogs does.
When we head in the exhibition hall, we'll need to have a chop at our hands first to show that you made the payments for the entrance.
Before roaming around the area, it is a must for me to snap a nice picture of both of us first(before Suki looks tired and messy)!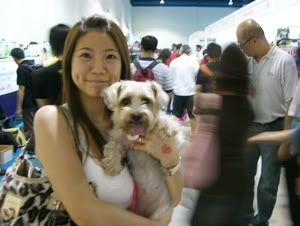 Argh... such a disaster of the day. Suki poo-ed in the exhibition hall! It's the slimy type and as a responsible owner, of course I cleaned it up as well although it took me quite some time.
Below are the pictures taken from the event.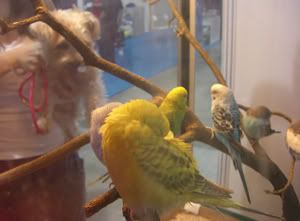 Suki : WoW..these birds looks tasty, wonder if chicken or these birds is tastier.
Beautiful princesses.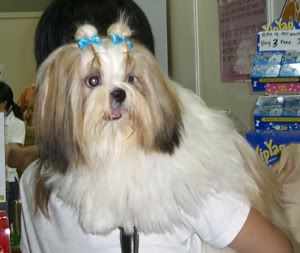 The cutie.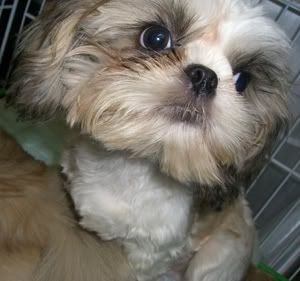 The active little tiny furkid - Yorkshire Terrier.
Fishes.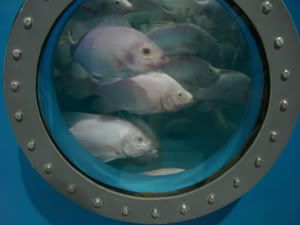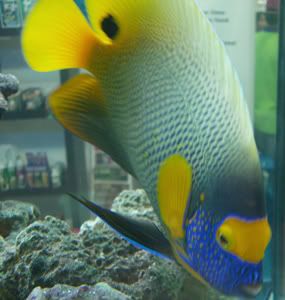 I find these cruel. Each of the fish is put into a small plastic bag with so little of water.. The water is about half or 3/4 of the plastic only. It doesn't cover the fish fully.
Pop
eye
fish.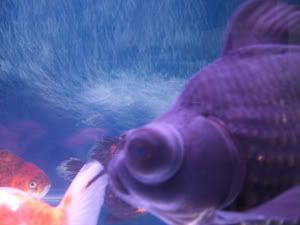 The golden twins.
Gizmo. Not sure if you know what Gizmo is, it's actually a creature is a movie which I've watch when I was younger. There's the evil Gizmo and the good ones. But of course, this is not a Gizmo, just happen to snap a picture of a look alike. It's a Pomeranion.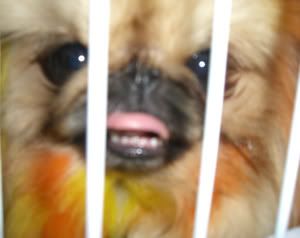 Lazy cats. Sleeps all time when we were there.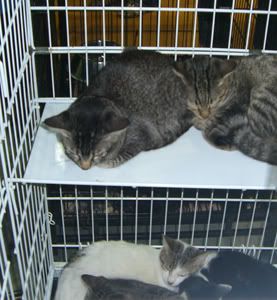 Suki: Hm...what on earth is this creature? It has a leash as well and it doesn't look like my kind.
Emeryn : It's a ferret.
Close-up of the ferret.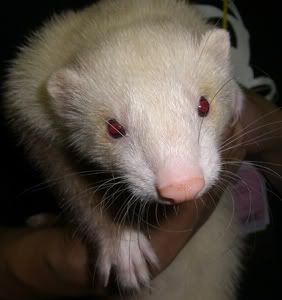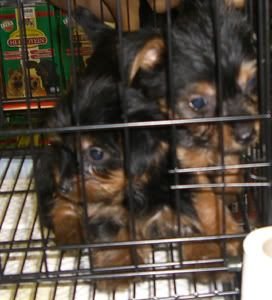 Suki: Oh gosh, do I look like this when I was still a puppy? It's totally different.
Suki : I din dinosaur still exist!
Eukanuba BIG ads.
I signup for Petster megazine at their booth. I've always wanted to have some pets mefazine and now I have it. After paying RM20.00 for a year of subscription, I found out that it's actually a free copy of megazine which they distribute 20,000 copies every month. What a foolish me! But nevermind, at least I get to have these deliverred to my door step every month and not need to rush to the shops or vets to get a copy.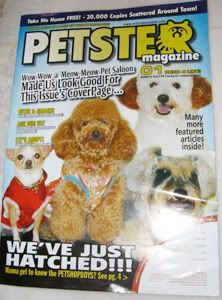 I bought some pets megazines from SPCA as well. it's only RM10.00 for 3 different issue. Although it's old issues, the megazine is quite thick and I guess it should be informative as well.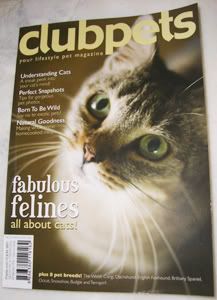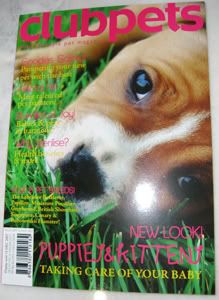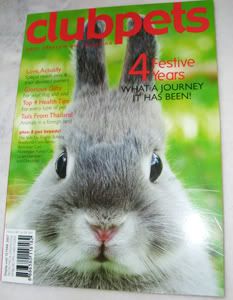 Dog : Whatcha looking at? Jealous that I look better than you? Dare to fight me then!
Dog : Argh... I lost to Suki!
After a few hours in the exhibition hall, it's time to head back. Suki was dead tired in the journey back home.