I believe everyone has their crazist or proudest thing that he/she achieved or done in past years. How if I ask, what's the craziest or proudest thing you've done for your beloved pet? Scratching your head? or maybe you've way too many to mention.
For me, having my first furkid meant a lot to me which I would like and will do many things for her. But, so far, one of the proudest thing I've done for her is
building
sewing her a house. Yes, I meant sewing.
I remember it was on 23rd October 2006, it was my semester break then. There was too much time wasted and something just strike my mind, to do/create something for my furkid. Since I do not work much part time job then, every cents count. Buying a nice warm, comfy bed for pet cost a lot. So, I decided to sew her one.
Not wasting anymore time, I purchased the items next day and started working on it. It wasn't much of items coz I've already have some at home. Anyway, items for her house below.
1. Foldable mattress
2. Cloth
3. Lace for design
4. Sponge
5. Pillows
6. Teddy Bears
7. IKEA christmas light
I spent 1 1/2 day to complete her house and it was complete satisfaction. I just can't wait to see her having a tight sleep in there.
Ta Daa!!!!! Suki's House Exterior View
Zoon-in View
Interior View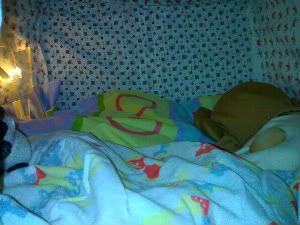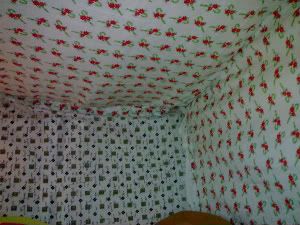 Star Light Star Bright, don't worry, Suki's house does have light as well and she'll have Christmas mood always.
Of coz when I intro Suki to her house, she take precaution steps. She doesn't just run in and sleep. She sniff around and slowly walk in to investigate. Once she feel comfortable, there she goes, my sleeping princess. I felt so proud!
It is quite easy to sew a house for your lovely furkid, all it takes is a little creativity and patience. You'll feel the satisfaction when you see your furkid goes in and sleep daily. Enjoy building one too!~