Yippie! My furkid finally looks girlish today, her fur/coat/fringe are just long enough for me to tye up so it won't block her view.
Baby shots
Manage to capture this shot when she's licking her nose, seems like she's eating or aiming something yummy.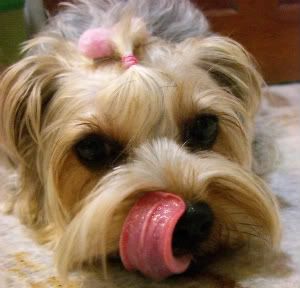 Last weekend I attended the Malaysia Dog Olympic Day 2008 held at Central Park, Banadar Utama, Malaysia organized by puppy.com.my and sponsored by Purina. This is the time where we can see lotsa different breed of dogs, dog clubs, and pet lovers gathered together for the same passion - Love of their dog.
It started rizzling when we reached there so we went for McD Breakfast. *yum yum*.
They have a few competition for the participants, those who scored the highest will win the champion. For those who did not participate in the Olympic, they could join the mini games which is quite interesting such as Dog Simon Say. I wanted to participate this together with my furkid however it seems like she wasn't that well and active that day. So, i just brought her there to socialize with other furkid and also to let her enjoy her walk while my eye gets the feast (don't misunderstood, it's just feast by looking all the doggies, they're all equavalent adorable).
Of coz, everytime there's a dog event there'll be performance by the Police K9 which is interesting and entertaining. The crowd gathered beside waiting enthusiastly for this. The K9 did jump into a hoop with fire(how daring they are! I don't even dare too), they'll attack/bite the "suspect" until the trainer says to let go, else, they would not let go even if u stand and swing, the dog's jaw will still be biting it and swing in the air. Their nose sense are so powerful that even the drugs are in a suitcase they're able to sniff it out as well. Just wondering, are those those actually addicted to these drugs? Coz they've been trained to sniff out these things. I've taken a few videos but to be uploaded soon. Stay tune!
Thre's this Caucasian breed dog imported from Russia for RM9k which caught many attention of the dog lovers there. It is only 7 months olsd and the size is huge, if I do not recall wrongly it's size is slightly bigger than an adult German Shephard.
This is it - the Caucasian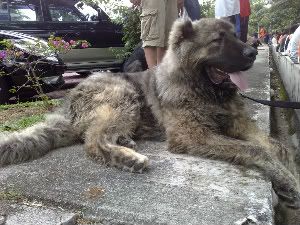 I walked around in the park and this dog caught my attention, he was really obedient that his owner called him to sit still, he'll sit nd stay at the same place to allow us to take his picture. And not to forget, he has very nice fluffy fur.
We really enjoyed this type of events as we get to socialize around and could exchange soem interesting stories and also knowlegeable information. At the end of the day, we're both so tired but I still gotta bath her and she gets to relax with my massage during the bath (but she doesn't like to take bath). Looking forward for this next event!