Hey guys together with your 4-legged friend, the Dogathon event which I have much anticipate is back! This event have actually kickstart since 1997 and to be held yearly which is to address the awareness of stray dogs. In this event, the owner and the furkid will need to run/walk for 2.5km.
I just can't wait for the following date as I have much enjoyed Dogathon last year. Usually, my furkid wouldn't want to run nor jog, she'll just hardened her body and sit still at 1 place. To my surprise, on the Dogathon 2007 she just wouldn't stop running and I couldn't catch up with her.
Dogathon 2008
Theme : Aerospace 2008
Date: Sunday, August 10, 2008
Venue: Bukit Expo, UPM
Time: 7:00am to 2:00pm
Admission: Free
Audience: All dog lovers are welcome with their dogs
DOGATHON™ TENTATIVE PROGRAM
06.30 Registration
08.00 Opening ceremony
08.30 Dogathon™ Space Race
09.15 Demo Slot -Take 1-
09.30 Fastest Eating Duo
10.15 Lucky Draw
10.30 Alien Says
11.15 Demo Slot -Take 2-
11.30 Resc-UFO
12.00 Dogathon™ Space Idol
12.45 Grand Lucky Draw
13.00 Prizes and closing ceremony
Site A
9.00 Pet-n-You Agility Trials
11.00 Dogathon Agility Jumper Trials
Site B
9.30-12.00 Master Hunt
Site C
9.30-1.00 Horse back riding
PACKAGES
PACKAGE A
Dogathon™ Space Race
RM 10 (Unlimited Participants)
PACKAGE B
Master Hunt
RM 10 (Unlimited Participants)
PACKAGE C
Dogathon™ Space Idol RM 10
(25 Participants only)
PACKAGE D
Fasting Eating Duo + Resc-UFO
RM 10 (75 Participants only)
PACKAGE E
Alien Says + One Free trial at Galaxy theme park
RM 10 (75 Participants only)
For any 2 packages - RM 16
For any 3 packages - RM 21
For any 4 packages - RM 26
All packages - RM 30
Others
Sixth Sense RM 3
Galaxy Theme Park Games RM 1
Horse Back Riding RM 5
Dogathon™ Jumper Agility Trial
RM25 (20 Participants only)
Map to UPM
Stage Plan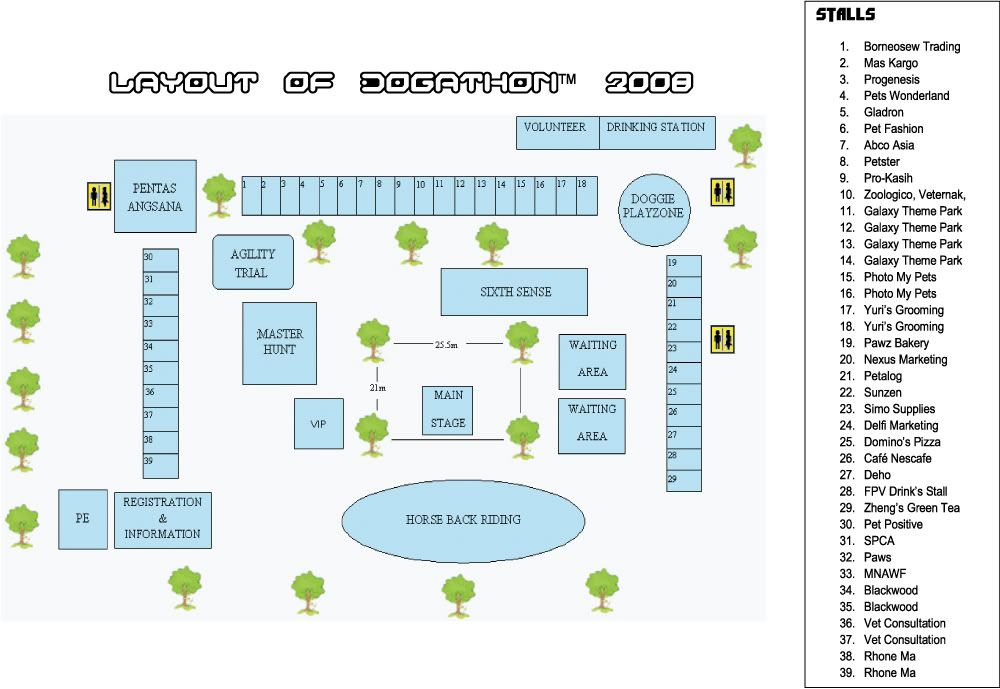 For more info, please visit
Dogathon
website.