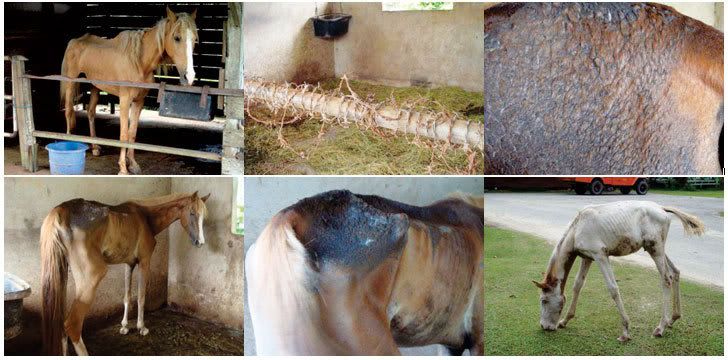 What the H***!!! I know... You just can't not to say that upon seeing pictures like this. Horses are suppose be a strong, tough , muscular animal, but what do we see here? It is really heart wrenched seeing images like this.
These horse are Melinsung ranch located 20 mins South of Kota Kinabalu... As reported from SPCA website, tourist are suppose to sign up for some activities(what??!!!does the owner still wants the horses t ork at such condition?!!!!!), instead what they found have left them sickened. In the report of 17th January, 2008, the owner is trying to sell of the meat. OMG, how the H*** could a person do that to such an innocent animal.
I'm sure that the horses are used for gaining some income such as horse riding activities and so on, is this what this horses should get in return? Even if the cost of buying and breeding them have not been coverred or even if it's coverred, there's no way a man should treat their pets/animals like this. This is just way too much!
I am glad that the tourist had actually reported his cause if they don't, there might not be any action taken at all. The authorities might have not realize this. I only know about this when I visited the
SPCA
website. If you would like to take action or voice up, you could write to the authorities as stated in he SPCA websites.
I really couldn't imagine what would the tourist think of Malaysia when they see such thing happens, I believe these images will stay in their memory as long as they live, the stories will spread as long as a man can talk or type nowadays.