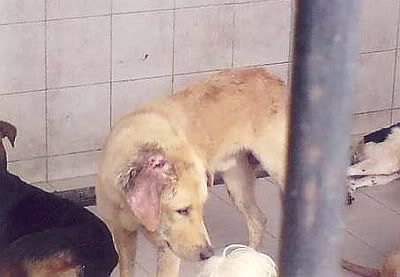 READ THIS.
Dog catchers acted cruelly, alleges rescuer
I WAS proud that I've been born in such a "strategic" geographical location which is
Malaysia
, with no winter coldness, super hot sun, storm, tornado, volcano, and extreme weathers to fear about. BUT, I'm deeply ASHAMED with such cruel act in Malaysia.
These are a few inhumane acts of SOME people in Malaysia which you MUST know of happened not too long ago too.
-
Owner distraught over cruel killing of 13 dogs
, NST, 1 July 2006
-
Selayang dog-catching competition scrapped
, thestar.com.my, Saturday September 15, 2007
I was and STILL very outraged by such brainless act of humans. Any healthy human being or at least a 5 years old kid will know that suct brutality. I strongly condemn such heinous act. how many times does such cruelty happen till the government totally put a stop to it. Or at least train their personnel to put themselves at other's shoe. Or maybe these people need to attend more training such as role-play.
Perhaps they should beat themself or their beloved children then squeeze through the narrow railings of the gate, see would they feel about it.

There is no justification of such inhumane act. Besides, this dog wears a collar chain. It might wander out and doesn't know how to get home. So, perhaps the role-play i mention above should change, these personnel should look at their beloved being beated up, and force through the narrow railings of gate, then they will know that such act is wrong. If such act to human is wrong, why dun they think that such act to animal is wrong too? Is it because we human think we are better than them so we can act such way?
I really think that they should be fired and punished for such act, and never ever work with any jobs with any possibility to deal with animals again. Who knows what will they do next. There should be a lesson for them and others to learn.
I also suggest that perhaps schools can start implmenting animal friendly activity or program as an extra-curricular to bring awareness, and teach school children what's love and care for animals. Many parents have given the wrong impression to their child that animals are dirty, dogs will bite them and so on. Parents play a big-role on upbringing their child. If the child have the correct impression, they too will not act so violently and when they grow up, they'll teach their children the same and goes on to next generation.
Remember this before your next action.
What comes around goes around."The greatness of a nation and its moral progress can be judged by the way its animals are treated." - Mohandas Gandhi