This little black furball joined as part of family 2 1/2 years back. She never fails to worked her way into our heart to cheer us up always. This little black furball have grown into beautiful, cute silky terrier. She's no longer whole black, she have mix of brown, silver, grey and black. interesting huh?
I can't really manage with her long coat, so, I always groom her to 1.5inch
long
short only.
Here she is !!! My one and only Soukei Terrier* .
These pictures are taken recently when i took her for a walk.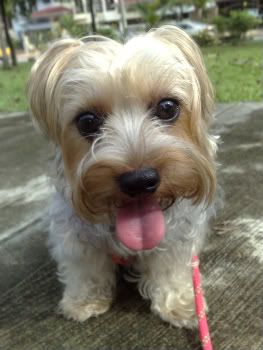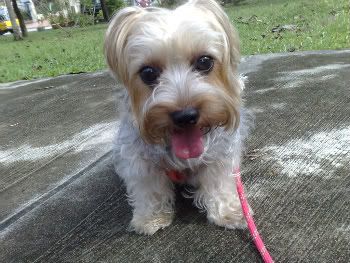 Suki Hate Bath Time
Suki :"Can I not bath please?"
Hm..Is Suki considerred
SLIM
now?
Note : There's 2 meaning of Soukei.
Firstly, Suki is my Furkid's english name, so, Soukei is her Chinese name.
Secondly, I call her Soukei Terrier coz she's a little off from Silky Terrier Standard with her droopy ears and short coat. (Damn..the pet shop didn't tell us that her ear needs to be shaved when she's a puppy in order to erect). So, she looks so special to me, it's like one and only.