I haven't been able to blog lately due to the faulty router and I don't understand why that my laptop is unable to connect to the Broadband with the direct connection to the modem. Argh..ok. I'll stop the whining. I'm currently using my PC to connect to the Internet now.
My favourite channel is always 553 and 556 on ASTRO. If you have ASTRO, you'll know what channel is that. For thsoe who doesn't, 553 is National Geographic and 556 is Animal Planet. These are my all time favourite channel where I can watch whole day long.
Friday night, I was at home and watching Animal Planet, and I stumble across the movie called '
Moon Bears : Journey to Freedom
' . So, before we began, if I say the word 'BEAR', what came across your mind first?
Winnie the Pooh / Pooh Bear ?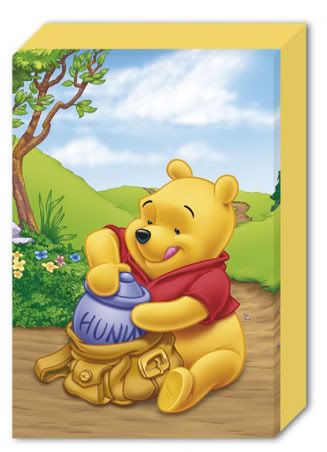 Teddy Bear ?
Bear fishing?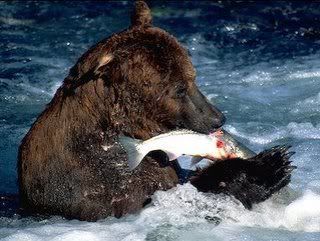 Okay, let me be more precise of the word now, I say 'MOON BEAR' , what do you think of now? Bear on moon?
This is Moon Bear. They are actually
Asiatic Black Bear
, however they are also known as Moon Bear due to the golden crescent across their chests. This is one of the Moon Bear named Jasper as he is today.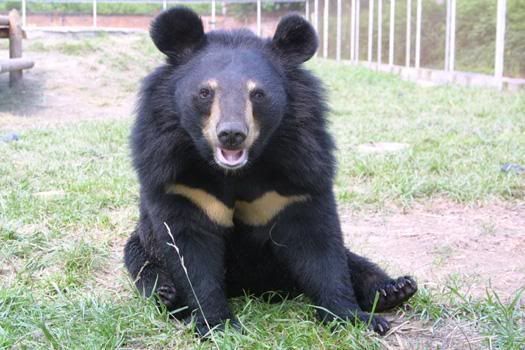 Okay, back to reality check. The above picture look so cutesy isn't it? and looks like he have been enjoying his life. You wouldn't know what they have been through before.
Moon Bear Jasper when he was rescued.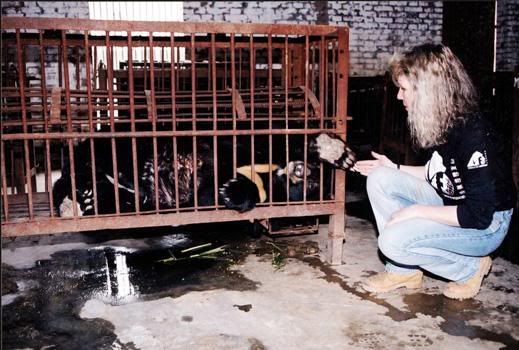 Imagine this, let's say you're 6 feet tall and 3 feet wide, but u're crushed in a 6.5 feet tall and 3.5 feet wide wired cages for about 2 decades. What do you feel? Imagine with this situation and you're often starved. Imagine there's a metal catheter being inserted to your body without sterialization and any pain killers given. Are these bearable? These are the conditioned for most of the farm bears.
As many as 9000 bears in China alone are kept in the tiny wired cages to prevent their movement to 'milked' for their bile. The catheter were inserted into the gall bladder abd they will be m'milked' for their bile. Half the amount of bears are said to die during the insertion of the catheter. Those that survive suffer from tumours, infections from open wounds, abscesses and hernias. The bile taken from the gall bladders of the living bears is used in Chinese traditional medicine for the treatment of ailments including stomach and digestive disorders and kidney problems.
Many farmers claim that a new catheter-free, free-drip method of bile extraction involving the creation of a permanent hole in the abdomen is painless for the bears and that the industry, therefore, is now "humane". The latest batch of tormented, disfigured bears provides further proof that the trade is as brutal as ever.
It is said that 80% of the saved Moon Bears are disabled. While watching this movie, it is really heart wrenching, my nose felt sour , but I just couldn't cry out. I could imagine these pain are so unbarable. If we need something from them, how could we treat them in such inhumane way? The technology are so good these days and many types of medicine have been invented to cure sickness without using the bear bile. There are many researches been done and about 45 or 54 types of other items could replace the bile such as Jasmine plant. So, why do we still need bear bile?
The helper in Animal Asia said that although the saved bears have gone through this, they are such a forgiving animal. If we human were to be treated this way and were freed 1 days, I guess we'll be taking revenge to get the person suffers the same for life.
These saved bears could not be released back to the wild due to that they have been very dependant on human and they can't survive by themself in the wild.
Please, help spread this to your friends to bring the awareness to them. Let's unite with one voice and stop the suffering of these Moon Bears. Also, please to help to sign the
petition
. These are the least that we could do. Let's pray and hope that all of them were to be rescued and have a good health.
China Bear Rescue
These are some videos which I found from youtube if you still could not imagine how these moon bears are being treated in bear farming.
*WARNING : If you have a weak heart, please do not view these videos.
Thanks to Animal Asia and volunteers/helpers which helps save this moon bears from "hell".